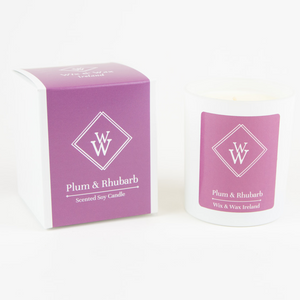 Our Plum & Rhubarb Candle has a vibrant fruity accord of fresh rhubarb and juicy plum supported with interludes of ripe pear and sweet peach with vanilla and sugar in the base. 
This candle is housed in one of our sleek white candle jars.  Our candles have a burn time of approx 50 hours.
Treat your candle with care and love by following our simple instructions and safety precautions. We have a thorough guide on how to take care of your candle on our blog. We have a quick version below.
 Never
Leave a candle unattended - especially when you've children or pets in the house.
Move a burning candle.
Let the wick touch side of vessel.
Use on heat sensitive surface.
Use near flammable materials.
Use for more than 4 hours at a time.
Burn to candle base, we suggest never letting the wax get below 10mm from the bottom.
Always