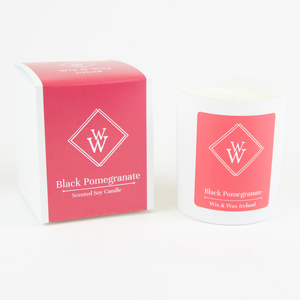 Our Black Pomegranate has top notes of juicy plum, pomegranate and fresh roses perfectly compliment a heart of patchouli, cedarwood, violet leaf and spices, all coming to rest on a musky base of amber, vanilla and leather.  Our candle has a burn time of approx 50 hours.
Treat your candle with care and love by following our simple instructions and safety precautions. We have a thorough guide on how to take care of your candle on our blog. We have a quick version below.
 Never
Leave a candle unattended - especially when you've children or pets in the house.
Move a burning candle.
Let the wick touch side of vessel.
Use on heat sensitive surface.
Use near flammable materials.
Use for more than 4 hours at a time.
Burn to candle base, we suggest never letting the wax get below 10mm from the bottom.
Always