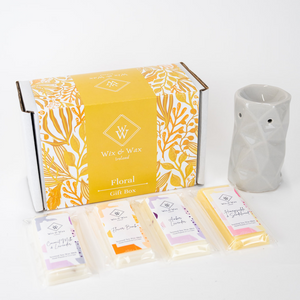 COLOUR AND STYLE OF BURNER MAY VARY

This Gift Box is ideal for those who love floral scents.
This Gift Box includes:
1 - Coconut Milk & Lavender Snap Bar 
1 - Amber  Lavender Snap Bar
1 - Daisy Snap Bar
1 - Flower Bomb Snap Bar
1 - Pink & White Tear Drop Wax Burner
Guidelines for Using:
We recommend snapping off 1 piece (1/5th of one bar) at a time for optimum scent throw. One of these pieces of scented goodness will last up to 12 hours. Our recommendation for our scented wax melts is 3-4 hours per burn. 
About Our Wax Melts:
Wax melts are basically wickless candles. Wax melts are much stronger than candles as there is no naked flame burning the fragrance away. Just put a piece or two into a wax melt burner and as the wax melts and releases the aroma into the air, your room or house will smell fantastic. The Snap Bar wax melts are typically 50 grams.
At Wix and Wax Ireland, we take pride in creating premium-quality wax melts that are eco-friendly, vegan friendly & cruelty-free with recyclable packaging. All our products are created in Ireland using sustainably sourced soy wax blends. So why wait? Experience the magic of the Alien Snap Bar wax melt today and transform your living space into a fragrant haven!