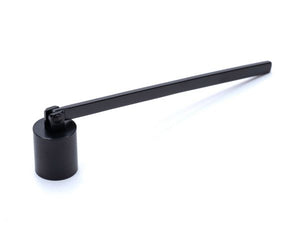 Introducing our must-have accessory for candle lovers - the Candle Snuffer from Wix and Wax Ireland! Say goodbye to blowing out your candles and hello to a more elegant and efficient way of extinguishing them.
This Candle Snuffer is an elegant addition to any home fragrance collection. Great for safely extinguishing both wood wicks and cotton wicks, corrosion-resistant, sturdy, long-lasting, this is a bendable candle extinguisher that can be used to grasp angles and postures well.
Safely extinguish your candles to avoid any hot wax splattering.  Made of stainless steel for long life and durability.
Not only does our Candle Snuffer make the process of putting out candles safer, but it also adds a touch of sophistication to your candle-lit moments. Its sleek and polished design complements any decor, making it a beautiful addition to your candle collection.
Order yours today and elevate your candle experience to new heights of elegance.